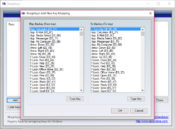 SharpKeys is a simple registry tool that will help you make changes to your registry keys, allowing you to remap keys to other functions that you prefer to use with those keys on your keyboard.
SharpKeys is essentially a registry key editor. It means you can change registries to change the function of a button you press on your keyboard. In simple terms, you can change the Shift button to perform the Tab button's actions, for example.
You can do that with almost any button and assign it to any action you want.
GUI is Simple to Navigate
When you first install and launch SharpKeys, you'll see that it's a lightweight application. Straight away, you'll see the keys you can make changes to.
And making the changes can be done with just a few simple clicks. All you need to do is choose your key and assign it the action you want it to perform.
Change the Actions of Your Keys
As already mentioned, you'll have total freedom over what actions you assign to your keys. For instance, if you want to change your Caps Lock function, you can do so.
You can also change the buttons so they do not act. So this means that if you press the key, you make changes, and nothing will happen.
Once you're happy with the changes, you can hit the "Write the Registry" button. This button will then make changes to the registry, and you won't have to do them yourself.
It can save you a lot of time, but it's also great for beginners who don't know how to make those changes independently. It's a beginner-friendly tool that will help them work with their keyboard.
Note that this app will work on Windows 7, while on other versions of Windows, it might not work as well.
Conclusion
SharpKeys is a simple and lightweight tool that will help you change your keys by editing the key registry.