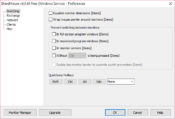 If you need to use a single mouse and keyboard with many computers, then ShareMouse is the tool you need. Using this application is a bit magical. You need to point the cursor of the mouse to the monitor that you wish to use on, and you'll see the mouse pointer on the screen. So, you'll be able to use the mouse and keyboard for that particular computer. You don't have to press a button or perform a separate setup for each of the monitors.
The logic behind is that the monitor detects the inputs through the LAN network. While using LAN for this purpose, you don't need to worry about data security, as all data would be password protected.
With this application, you can drag and drop the files between different monitors. Even if computers work on different operating systems, you can still utilize this application.
You can lock and unlock many monitors simultaneously. Similarly, synchronization of screensavers on the number of the screen is also possible through the utilization of this application. Additionally, accessing computers remotely also becomes possible through this utility.
ShareMouse is an application that allows you to use a single mouse and keyboard for several monitors.