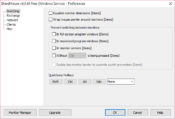 ShareMouse is a small and intuitive application that lets you easily share your mouse and keyboard with several computers.
Sharing your mouse and keyboards with several computers and systems is crucial, especially if you work remotely or remotely access another computer.
With this way of operating, you won't have to constantly switch between different mice and inputs, which gives you a much easier way to work with multiple computers or monitors.
And that's where ShareMouse comes in. It is a small and lightweight application that will enable you to handle several computers and monitors using just one mouse and keyboard.
It can be essential when working with multiple systems or when you need to manage computers remotely.
Install on the Host Computer and Get Going
The first thing you'll need to do is to install it on the host computer. That way, you'll be able to get started, and it's the only thing you need before using all of the capabilities of this application.
When you do that, the app will automatically detect all computers connected to a network. You'll find a list of clients in the Preferences window.
So if you have two computers you want to work with, you need to install this utility on the host computer, and then you'll be able to use the mouse and keyboard on both computers easily.
Hotkeys, File Sharing, and More
It is a simple app, but it also has some neat tools for managing your inputs, mouse, and keyboard.
To help you with that, you'll set hotkeys, which will help you make some processes that you do with this application easier and faster.
You can do this by switching to another monitor by clicking on one button, for instance.
Conclusion
ShareMouse is a user-friendly and small application that you can use to use your keyboard and mouse on several computers or monitors. It's easy and intuitive to use with hotkeys, too.