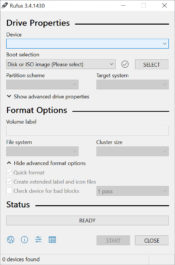 Rufus is an application that will allow you to create bootable USB drives with ISO files, allowing you to install ISO files on your computer, including operating systems or other applications.
A bootable USB drive is one of the most common ways to install an operating system. It counts even if you're a beginner and have never done this. Today, that's easy because you have all the software and the hardware you need to do that quickly and without a fuss.
And a good application to create bootable USB drives and install operating systems is by using Rufus, an application that's meant to give you an easy way to create a bootable USB. It provides you with all the standard options that you'd come to expect from such an app.
But it also gives you some additional functionalities that are not present with other similar apps.
Format Files to the Desired File Types
First, let's talk about the user interface. It's a simple one, as it's designed to provide you with an easy and simple way to get started with operating system installation. You'll find some of the main functions in the interface that will help you get started.
You'll need to select a device you want to use to create a bootable drive. Then, you'll want to choose the target system type and the system file type (FAT32, NTFS, UDF, or exFAT).
Other options include new volume labels as well as cluster size. Save the data before you start, and pick your connected device to get started. It's simple.
Advanced and Additional Tweaks
Rufus also offers some nice tweaks and options that only advanced users need. You can list unpartitioned USB drives and add fixes for old BIOS versions, providing compatibility for older systems. It provides you with a complete experience.
Conclusion
Rufus is a complete application for creating bootable USB drives, allowing you to install an operating system on your computer.