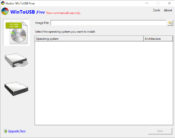 With WinToUSB, you'll be able to install a Windows operating system using a USB drive or by using an ISO file, CD, DVD drive, or another instance of installation that you prefer to use.
Many Windows users who want to try out different variations of Windows have to make sure that they're able to launch an executable file for the installation easily.
Many users use a bootable USB drive, which is one of the easier ways to start the installation for Windows. Others use CD drives, DVD drives, or even ISO files to do the same.
If you want to have a tool that will enable you to create all of those types of drives, then this application is a reliable tool to use. It has a wizard-like interface that will help you through the process while also enabling you to create various drives.
You can manage the boot options and the boot source inside this tool, as well.
Create Bootable Drives Using a Wizard
When you first open WinToUSB, you'll see that it has a wizard-like interface where you'll be able to follow the steps and get the process done quickly. It means that even if you don't have experience, you'll be able to create one easily.
To start the installation, you'll have to choose which option suits you best. You can decide between USB drives, ISO files, CDs, DVDs, or a hard drive.
This application will handle all of these drives, which is convenient, especially if you want to have a bit more variety when it comes to choosing your preferred type of drive.
Manage Additional Options
Once you've picked your preferred type of drive, you can manage additional boot options. These will also be available once you start installation on your target computer.
When you install Windows, you'll have to select the target location, the partition you want to use and then start the installation.
WinToUSB will also support building a bootable Windows PE USB drive that can help you transfer the contents of a Windows PE image to a USB drive.
Conclusion
WinToUSB allows you to create bootable drives for installing Windows with ease, no matter which type of drive you want to use.