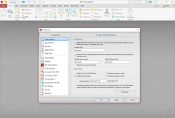 View PDF files and manipulate them any way you want, including appending, OCR, security, multimedia comments, exporting, and much more with PDF-XChange Editor.
PDF files usually are more complex than the simple text files we typically use. However, PDF files offer far more multimedia context and are also safer to use, so they are often preferred.
But editing these files needs a powerful editor, and that's precisely what this application is.
Widespread Support for Formats
You must load files to use the features when using the app. And despite the app's name, there are far more formats supported by the app than just PDF. It will support many files, including XMP, BMP, GIF, ICO, JBG, PBM, PGM, TGA, PCX, PNG, JPG, TIFF, EMF, RTF, DOC, DOCX, PPT, TXT, and some others.
You can open each document separately and edit it with just a click. And you can do that by opening the files in separate tabs, so you can also have several tabs open simultaneously.
You also have several view options to view the files in different ways.
You can preview thumbnails, but other tools such as rotation, zooming, ruler, and other features help with editing.
Edit the Files and Export Them
If you want to edit and export PDF files, this application offers you a powerful and effective way. You can use this app's various manipulation tools and then export the final product into a completely different format.
You can edit the content with some very simple tools, or you can use more comprehensive tools, too.
Select and edit text, add pictures and barcodes, or draw directly onto the PDF file. There are dedicated brush tools that allow you to do just that.
There's also the OCR component, which directly translates any readable text into your desired language. There's also a built-in spell-checking tool to check the spelling to see if it is correct.
Generate New Files
You can even take snapshots and make sure that you save the new documents as photos or other types of formats. You can then measure things with the ruler and do other things with it. It's a very comprehensive tool that allows you to perform a wide variety of actions.
Once you're ready to export your file, you can export it in different formats. You can also generate a completely new PDF file or export an existing one.
Alternatively, you can export the new document in a completely new format, including PPT or many other formats. You can then share these documents via email or other means if you need to.
Conclusion
PDF-XChange Editor is one of the most comprehensive PDF editing tools out there. It features a wide variety of editing tools and exporting options that you can share and make sure you make all the edits you want.