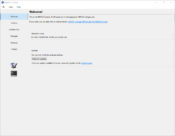 If you are looking for a TEX editor or technical terms or expressions to a document, you must use MiKTeX. It can be considered as a substitute for LaTex.
If you are already familiar with using LaTex, you will find the interface of this application quite user-friendly. However, if you aren't aware, you'll have to spend some time getting used to this application's interface.
MiKTeX does not support the conventional ways of styling and formatting texts; instead, it works with commands to generate the desired results. It helps you save time when you are writing the document rather than focusing on your text format.
Spelling language, the upper and lower case of the text, size, style, and font are some of the options you can get through this app. Searching for custom text and replacing it within the file is also one of the features you can get through this application.
Adding indents and comments in your script and the addition of line numbers and line wrap features, you can customize your text as you like. A variety of typesets can be chosen for the creation of the required document. You can easily customize the application according to your needs.
MiKTeX is one of the applications that can provide editing facilities to users. With this tool's help, you can focus on text and leave the text's formatting to the completion of the document.