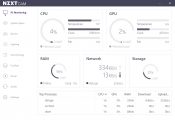 With NZXT Cam, you'll be able to track your computer's performance to ensure it's running as well as it should. It will provide you with data and information about your CPU and GPU usage and other parameters.
One of the main things you'll need to do to optimize your computer's performance is to ensure your components are using their full potential.
But you can't be sure of that if you don't know how well your hardware components are currently performing. Two of the most important components are your CPU and your GPU.
With this tool, you'll be able to track these two components' performance. You'll get all the data about them, such as temperatures, fan speeds, and the two components' usage rates.
It gives you enough information to start overclocking and optimizing the performance of your computer easily.
Create an Account and Get Started
Before you start using NZXT Cam, you'll need to create an account. After that, you can download the application and start. Of course, you can also login using your social media accounts if you want.
You'll see that you'll have some customization options at the start. After that, you'll enter the main window.
Get In-Depth Reports About Your PC
You'll immediately see all the data and information about your computer's hardware on the dashboard.
You'll see some graphs with your CPU and GPU performance stats. Also, you'll get reports about your hard drives and RAM usage. All of the information will be displayed in real-time.
You can select which data gets shown, too. In the advanced settings, you'll have configuration options for your computer. There, you can start overclocking your components, as well as manage them when you play games.
This application will give you total control over your computer's components.
Conclusion
NZXT Cam is an intuitive application for tracking your computer's main components' performance.
It's easy to use and gives you all the information about your PC's hardware. If that's what you need and it's worth using.