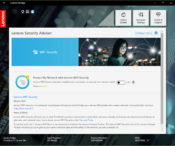 Lenovo Vantage provides the users with the facility of downloading the drivers, updating them, and providing the diagnose facility to identify the problem on Lenovo laptops running on Windows 10.
You can expect to get your device scanned easily through Lenovo Vantage. Easy scanning refers to the lack of interruptions in the operations of your device during the scanning process. The regular scanning of your device makes it possible to keep all your data files and essential programs safe.
Additionally, it provides you with more options for keeping your device secured because of the application's personalization feature. According to this feature, recommendations and suggestions are provided to the users based on their problems and the solutions they have adopted for solving these problems.
Using this application, you can transfer your files from your old computer to a new computer directly through browsing. You do not need any Bluetooth connection or emails for backing up your files, as it can be handled directly by installing this application.
Lenovo Vantage also makes it possible for the users to upgrade their drivers and set up high-security bars while keeping your computer safe.
Lenovo Vantage is an application providing a mixture of essential services, including driver update, malware detection, scanning and problem diagnosis for your Lenovo computer, and secure file transfer through a single application.