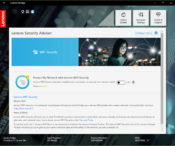 Do you have a Lenovo computer? Then you might want to use Lenovo Vantage, which will provide you with many ways of personalizing your Lenovo experience and improving your PC performance.
Lenovo is one of the biggest companies in the world when it comes to producing hardware. It's especially known for its great laptops and computers, with great personalization and customization options.
If you own a Lenovo laptop, for instance, you can control your machine's performance quite easily.
With this application, you'll be able to customize how your computer works, as you can set up your hardware to make it perform as best as possible.
It is especially valuable if you want to get the most bang for your buck possible.
Customize Your Lenovo PC
This application is especially useful if you own a Lenovo PC or laptop.
With this application, you will be able to customize the performance of your hardware according to your needs.
It is crucial to ensure you get the most out of your computer.
If you play games, for instance, you might want to take the performance up a notch to get more out of your computer. You can also tune it down for a more subtle experience.
Other Customization Options
Not only will you be able to alter the performance of your computer, but you'll also be able to increase your machine's safety.
You'll also be able to install the latest software and drivers with it, which can be good if you don't want to use additional software.
Conclusion
Lenovo Vantage is an application providing a mixture of essential services, including driver update, malware detection, scanning, and problem diagnosis for your Lenovo computer, and secure file transfer through a single application.