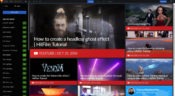 HitFilm Express is a revolutionary premium video and film editing software with lasting effects and editing tools, which provides one of the world's deepest movie editing experiences.
It is one of the most complete and advanced movie editing tools. It's a great tool for hobbyists and professionals looking to enhance their videos and movies.
With this application, you'll create stunning visuals and movies to impress the audience and create an amazing video.
A Complete Editing Tool
When you first start using HitFilm Express, you'll see it's a modern-looking tool with a slick interface. If you've never used a tool like this before, you'll be able to get to work almost immediately. Getting used to the environment and the tools available inside the application won't take long.
It is an editing and learning tool with an unprecedented and deep library of learning videos. With the built-in browser inside the tool, you'll have great control when working with this application.
With it, you can access tips and tutorials that improve your experience and make you a better user.
Edit and Export Movies
The primary role of this app is to edit and export high-quality movies. You can use a great library of templates to get started with your work or create a movie that's completely yours.
When it comes to editing, it's quite flawless if you use various editing tools at once. You can add all the editing tools to your screen for easier access.
You must insert a clip or movie into the interface to start. Then, you can begin shaping and transforming it with various effects.
Some of the most important editing tools include Blurs, Color Grading, Distort, Generate, Grunge, and others. These are fully customizable, too.
Conclusion
HitFilm Express is an advanced editing tool with many features that make it feel like a premium tool.