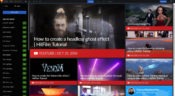 If you have a project which requires you to do some editing, then you probably need a program which helps you in doing so. There are a lot of people who like making videos, and they are looking for the best ways to do it.
That is why they need a great working tool to finish their projects. HitFilm Express can be a useful tool if you are making videos because it provides you with a lot of features. This tool was made for everyone and can be used right away. It has some useful features which help you in creating some of the best videos.
The application is an advanced video editor that contains tools for animations, picture in picture, 3D projection, various transition types, custom trimmer, multiple video effects. Supplementary, it supports a plethora f video formats, both audio, and video.
If you are looking for a tool which allows you, then this one is the right choice. You can choose from any tutorial on the site to learn how to make some nice-looking videos.