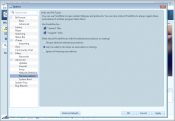 Use FrostWire to search for torrents of all types, including audio and video content, games, apps, and other types, while also using an audio player and a radio player inside the app.
It is a versatile application that can serve as a torrent search engine and an audio player. In essence, it's a file-sharing tool that enables users to share files with others in the format of torrents with ease.
It is free to use, and it has developed from LimeWire, a hugely popular torrent app for downloading music torrents.
Free to Use and Simple
While this is a free application to use, you should know that you might stumble in a couple of ads during the installation process, but that is to be expected.
You can easily turn off the downloads for third-party apps that you don't need during the installation if you want. The installation allows you to configure the language, torrent output folder, and more.
You'll see that the user interface of the application is relatively simple to use, as well. The main navigational menu will show you all the options for search.
There are also several buttons and tabs inside the interface that enable you to configure how the application works and how you intend to use it for finding torrents.
Search for Torrents, Play Music
The main purpose of the application is to enable you to search for audio torrents with ease. The application has an elaborate search engine built into its interface to make it easy for you. The good thing here is that the search will incorporate several search engines for torrents in one to help you find your preferred ones.
The results can be viewed in the main window, where you'll also be able to see other information regarding the search, such as file size, type, and so on. FrostWire can also act as an audio and radio player.
Conclusion
To conclude, FrostWire is one of the most reliable BitTorrent download clients with additional options, including internet radio support, media library, audio player, Kindle Fire HD compatibility, and built-in video player. Another unique feature allows users to share files via wi-fi.
FrostWire features and benefits:
Magnet Link compatible
Built-in video player, media library and audio player
Wi-Fi sharing
Search inside .torrents and the cloud
Internet radio support
Send large files and folders
Full featured BitTorrent support