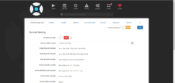 Do you like watching shows and series, but you don't know how to stay up to date? You can use Sonarr to help you with that, as it will help you detect the latest episodes so that you can watch them immediately.
Watching series and shows is one of the favorite pastimes for many people. There are many different shows available nowadays.
However, not all users will watch them using the main streaming services. Many people prefer to download torrents instead and watch the shows that way.
If you're having trouble keeping up with the updates and the latest episodes, then Sonarr can help you out.
This application will provide you with the latest updates when it comes to the newest episodes, providing you with links to these torrents so that you can download them quickly and watch them right away.
Browser-Based
Sonarr is not a dedicated application itself, but it's rather an application that you can find in your browser. It will open in a dedicated browser address once you run the application, from where you'll be able to do all the actions inside the app.
It's compatible with all browsers, which is welcome if you like to use different browsers.
Download Missing or New Episodes
It provides you with an easy way of searching for the latest episodes from the internet.
You'll have the ability to browse for new episodes on different torrent sites, and this app will compile all the searches in one spot. You'll only need to enter the name of the show or just the keyword for the search, and you'll get going.
After that, you'll also be able to define other filters for the search, such as the file size, video image quality, choose the destination folder for the download, and get going quickly. This way, you'll have access to the missing episodes or the latest shows you haven't watched yet.
Conclusion
Sonarr provides you with an easy way of finding the missing episodes you haven't watched yet, or the ones that have come out and you haven't checked out as of yet.