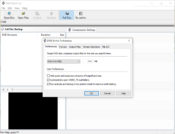 You can reduce the size of your DVD content and back it up using DVD Shrink, a powerful tool that helps you manage subtitles and burn the files back to the disk as you feel ready.
If you have movies on DVDs, you know keeping them organized is important. Because as you get new DVDs, your library might get disorganized, and as a consequence, you might not know where your files might be. Storage space is also problematic if you have many DVD files on your computer.
With DVD Shrink, you can shrink these files' size to ensure you have more space on the computer. If you like copying DVD files on your computer, you'll also find it handy.
It allows you to back up your files on your computer and deploy them back to DVDs as needed.
Get Started Quickly
With DVD Shrink, you'll be able to get started almost immediately. As the name suggests, it allows you to shrink your DVD files' sizes, which is especially helpful if you have many on your computer's drive.
You can install the application easily and quickly, and you'll see that the user interface is quite simple, so you can start the work almost immediately.
Create Backups, Burn to Disc, and Save Space
When you want to ensure you have your DVD files ready to be deployed, you can back them up and save them on your computer. You may do that with this tool. You'll also be able to burn these files back to the selected disc as you feel ready and when you want to watch a particular DVD.
Also, you'll be able to save space, as the tool's name suggests. It will help you shrink the size of the files to have more space.
Conclusion
DVD Shrink is a handy tool for backing up DVD files, shrinking them, and deploying them as you see fit.