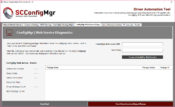 With this application, you can expect the automation of the download of the drivers. Driver Automation Tool can make the entire process simpler.
It comes with the graphical user interface so that the usage of this application is quite easy. Some facilities are available through this application. You can download, extract and import the drivers for different computers. Computers like Acer, Dell, Lenovo, and HP are compatible with this application.
You can even download the BIOS or other operating system elements through this utility as well. You can even find the drivers supporting your specific operating system or model. Choosing the right location and removing the unused drivers can also be the part of the features that you can expect from Driver Automation Tool.
Driver Automation Tool is a graphical application to keep your drivers up to date through automatic up gradation.