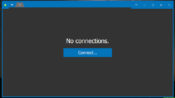 Distant Desktop is a useful application for controlling remote computers and gives you all the tools you'll need to share files, send messages, and more.
Working remotely is becoming normal nowadays, especially with everything happening in the world. Many people are forced to work with their remote computers, which means they'll have to use a specialized piece of software to help them control their remote computers more efficiently.
It will provide you with all the tools you'll need to control your computer remotely, regardless of your location and where your computer might be. You'll get instant access to the computer's resources, send and share files remotely, send messages, and more.
Remote Connections Made Simple
Before you start using the application, you'll want to make sure that Distant Desktop is installed on both computers you're looking to use.
Then, you will want to ensure that you set up the password and the username for both computers, enabling you to connect. It will be displayed in a small window where you must enter both pieces of info.
After that, you can connect to the remote computer and perform the enabled actions for you. Another way of connecting will be by clicking on "Connect", although you'll first want to ensure that the firewalls on both devices are not blocking the connections.
Share Files and More
After the connection is established, you can start sharing files with the remote computer and perform other actions.
You can send audio and text messages to the remote computer with the built-in chat, which can be useful if you're working with someone else.
Conclusion
Distant Desktop is an intuitive tool that lets you easily connect to a remote computer, control it, and perform certain actions on it.