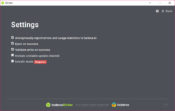 balenaEtcher allows you to burn images to your removable drives and SD cards easily and seamlessly, thanks to a user-friendly interface that lets you get the job done quickly.
If you're looking to deploy a new operating system on your computer, you will probably do it the easiest using a removable bootable drive.
Whether that's a USB drive or an SD card, you'll be able to get your job done quickly. And what's even more important is that creating these drives should be easy and not entail a lot of work.
It is one of the most popular applications people use to burn images to their removable drives and SD cards. It allows you to easily create a bootable drive to launch and install your OS on your computer.
It's easy to deal with and makes your work simple, so you don't need to go through a complicated process.
Create Bootable Images in Just 3 Steps
balenaEtcher features a very simple and intuitive interface that's also very sleek. It allows you to create amazing bootable drives that are also reliable quickly. The interface is somewhat simplistic – it has all you need to make these drives, but not too much to overwhelm you.
Perhaps one thing to note is that the app will only support a few file types – including ISO, IMG, and ZIP. However, the good news is that the process is largely automated, so you won't have to do much work to create bootable drives.
You need to select the OS image you want to make a bootable drive and pick the drive you want to use for the job.
You can then wait for the app to do its work and then select whether that's that or add additional files to add to the drive. BalenaEtcher will do the rest. All of this is done in just three steps, and you're done with the work on your part.
Conclusion
balenaEtcher is an application that allows you to create bootable drives easily and quickly.