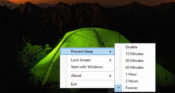 Awake has been designed to keep your computer away from sleep or hibernation even after extended usage. It can be used to keep your computer active even if you change the sleep and hibernation settings from your computer.
It is a free and lightweight application to help you in enhancing your overall productivity. Accessing this application is simple, and it is available in the tray all the time. The context menu is its entire interface, so using it won't be a problem too.
It does not require any modification in the settings of your system. Instead, this application resets the timing of your idle time calculator so that your computer can stay not asleep.for the period you want.
By using this application, you can keep your computer idle for as much time as you want or even run a program in the background without worrying about the computer's idle time.
Another feature that you can get through Awake is that you can turn off the screen of your computer by a simple keyboard shortcut. So, you'll still be saving your system resources and keeping your productivity level high at the same time.
Awake is a program to keep your computer running irrespective of the hibernation and sleep settings of your computer.