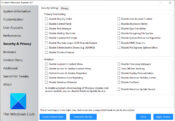 As the name suggests, Ultimate Windows Tweaker is a utility tool that will allow you to make various changes to your Windows system, including appearance and performance changes.
Windows is perhaps the most popular operating system in the world, and for many good reasons. For once, it has a lot of customization options available, which gives users a lot of freedom when they make changes to their system. However, the downside is that you're risking the performance slightly each time you make changes.
As the name suggests, this app provides you with a wholesome way of making changes to your Windows system, as you'll be able to customize both the appearance and performance of your system.
Portable
First of all, we should mention that Ultimate Windows Tweaker is completely portable. It means that you don't have to install the app on your system, allowing you to make changes to your system instantly.
The app has a simple interface where you'll see the changes that you can make quite easily.
Personalize Windows and More
The first function that we should mention here is the ability to make changes to the appearance of your Windows system.
For instance, you'll be able to change the theme and the wallpaper from one app, which can save you a lot of time and hassle. You can also alter other settings like personal settings, user account, Internet Explorer, security, etc.
What is more, you can also make backups of your system and rollback points, which can be useful for Windows users.
This way, you'll be able to have a checkpoint that you can reroll back to in case something goes wrong, which can help you save a lot of time and problems.
Conclusion
To conclude, Ultimate Windows Tweaker is a complete tool for tweaking your Windows system and for making wholesale changes to your system with ease.