Virtual DJ 2018 Build 5186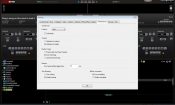 Virtual DJ Free has some limitation in comparison with its paid edition but nonetheless it remains a viable option when you want to play the DJ back at home. The idea is that you won't be able to use any DJ related hardware, such as mixers, controllers etc. Being software only, it offers pitch control, a big number of decks, mixers, gain controllers and equalizers.
More advanced users may take advantage of master tempo, beat-match features, smart loops and different additional plug-ins, especially useful when one needs a special sound effect. Video and karaoke are also available in the free version.
Virtual DJ features and benefits:
DJ Players with Controls and Pitch
Maximum number of decks 99
Internal Mixer with Gain and Equalizers
Key Lock/Master Tempo
Instant BPM Detection
Automatic Beatmatch
Automatic Gain
Smart Loops
Play Music Video and Karaoke
Master + headphone output