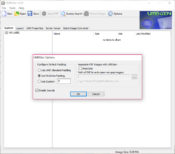 Create ISO images for your PSP using UMDGen, a simple and portable application that will enable you to do it.
If you're looking for a quick and compact tool for creating ISO images for your PSP, then UMDGen is one of the better choices.
It has a user-friendly interface and various tools to help you get the best and easiest way to use this application. You don't need to install it; it offers multiple panels and additional features and properties.
Drag-and-Drop Interface
It is known for being very simple and easy to use. First of all, we must mention that this application is completely portable, which means you won't have to install it before you use it.
Once you have installed it, you will see that it has a drag-and-drop interface where you'll easily drop your files into the interface.
Other than that, you will see that the main window will be divided into multiple panels, where you'll be free to explore the wide variety of UMD properties, directories, and various other features that might help you out.
File Conversion, ISO Creation, and More
You'll find this application very useful if you need to do almost any task regarding ISO files or other tasks. It's great to use when you want to convert file formats such as the ISO, DAX, or CSO format, which you can use to output your files. You can specify the compression value when you do the tasks inside the application.
What is more, you will see that you can use custom paddings and several additional features, such as volume identification details and more.
It's simple to use and, more importantly, fast. It won't take long to convert the files and create them, and you'll also see that it won't use a lot of resources for your operation.
Conclusion
UMDGen is a simple and straightforward tool that can easily convert files into ISO format and create different files.