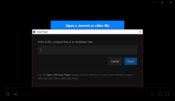 Soda Player is a useful multimedia player that will help you stream media files on your computer, including torrent files, which means that you won't have to download the files before you play them.
It is a media player that is designed to work quickly and without a fuss. It has a drag-and-drop interface where you can enter torrent files that can be streamed through the player.
It supports most BitTorrent technologies to bring you a good performance level, which will enable you to have an enjoyable experience with torrent media files.
Support Various Torrent Codex Types
The main appeal of this multimedia player is its versatility when it comes to playing torrent files. You can open and play magnet links almost instantly, which you can do by just dropping them into the interface.
It will enable the player to download the files and stream them through the player, which means you won't have to wait before using them.
In terms of trackers supported, this application will feature support for many different types. These include DHT, PEX, UDP trackers, and others. By using these trackers, you will stream your multimedia files instantly while also staying private.
The downloads will also be done quickly so that you can expect little to no lag.
Proxy Enables Security
If you want to protect your identity and stay hidden, you can use the SOCKS5 Proxy. It will help you hide your IP from the trackers and other peers in the network, allowing you to stay safe and hidden while you stream your files.
Some additional bonuses come with using Soda Player. You can watch the media files on your Chromecast or Apple TV, too, as well as most other modern TV players. You can find subtitles for your language, too.
Conclusion
Soda Player is a useful multimedia player that will help you stream your media content without the need to download it and stay secure at the same time.