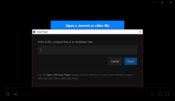 Soda Player is a free video player that is capable of playing stream torrent and magnet movies in real time, so you do not have to wait for the entire movie to download to watch it. The player supports all file sharing technologies like UDP (User Datagram Protocol), PEX (Peer Exchange), DHT (Distributed Hash Table) and also takes care of your privacy due to SOCKS5 proxy integration.
Soda Player supports all hardware with integrated Chromecast and AppleTV and 5.1 and 7.1channels digital sound. Let's not forget the 1080p (HD) and 4K (UltraHD) capabilities. The player is also able to search and add the required subtitles if necessary, in your language.
The player also supports a plethora of audio and video codecs like HEVC/H.265, AC-3, DTS, WebM plus H.264 and HEVC/H.265 hardware decoding. Soda Player's interface is simple, beautiful while the options are very intuitive.
As a conclusion, we can say that this video player could become one of the best video players you have ever used. Just give it a try and give us your feedback.