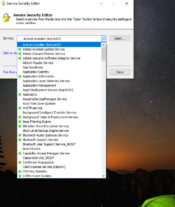 You can use the Service Security Editor to manage the users' access to different applications on your computer. With a few clicks of the mouse, you can manage Windows services.
It can prove to be an essential tool in securing your computer from unwanted operations and thus improving the overall efficiency of your activity.
This software works in two different dimensions. Firstly, you can control the people who have the right regarding the use of the specific application of your computer. Usually, such a problem exists in networks.
Using Service Security Editor, you can provide the rights to people, and at the same time, you can deny certain rights to others. It creates an environment where you have greater control over your system.
Similarly, not all the applications are relevant for all the users, probably because of security concerns or efficient management. In all such cases, you can even restrict the access of particular applications or allow the specific applications to be accessed across the network.
Service Security Editor is ready to be run on installation. You don't need lengthy setups that will hinder the usual operations of your computer, so it is easy to use the software. Managing all the restrictions for the people or applications is not difficult; you need to follow the simple steps to get it going.
Overall, Service Security Editor makes the administration of your computer secure and manageable without much hassle.