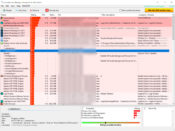 Get information about the security risks of your open applications and processes with the Security Task Manager. This simple tool will help you improve your computer's security and stay safe.
When many applications and processes are running simultaneously, you never know when you will run into trouble. In addition to worrying about the system resources, one of the most pressing concerns is often the security that comes with your open apps.
To analyze and manage all of your open processes and tasks in terms of security, you can use the Security Task Manager.
It is a rather simple application that will help you display information about the security of your open tasks and processes to avoid potential problems with lower security.
Simple But Efficient Tool
First, we must mention that this software is a very easy tool to work with. In essence, you'll have all of your tasks open in the main window.
You'll be able to see the security information about each task based on the information the app receives from the internet, collected from millions of users.
It's very easy to install and deploy, and you probably won't have many problems with installation. When you open up this app, you'll instantly see all the open processes on your computer and their security ratings, giving you a better idea of how safe your apps and tasks are.
Export Data
With this app, you can control the processes you are running, as you can open and close them quickly without too many problems.
You can also see all the data connected to those apps and export the data.
Conclusion
Security Task Manager is a simple but effective application that will help you analyze the risk of your computer's apps and help you manage these apps to ensure a better security level on your PC.