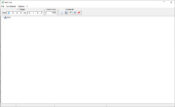 NetScan supports private and public networks, and it will be an easy-to-use freeware that will help you monitor and evaluate wireless connections.
It can easily be configured to scan fast and even slowly by going through the settings and selecting the options you want.
This program can scan entire class B and even class C IP networks and check any number of open ports on the network. It is quite a small tool, and anybody can scan different IP addresses' statuses.
NetScan will offer you the possibility to do IP scanning in a specific range, and you will see that it will support private and even public IP addresses. It will also allow the user to use the user-selected port scanning with automatic port recognition.
It is straightforward to configure this tool the way you want, and you will see the excellent friendly interface.
NetScan won't have any restrictions and can be downloaded in seconds. Thanks to the friendly interface, it will be easy to figure it out.