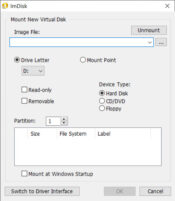 ImDisk ToolKit is a useful app that you can use to mount image files on your hard drive, CD ROM, or floppy disks and create RamDisks using the parameters you want to use.
It is a simple tool with a handy interface that will allow you to mount images to your hard drive or CD ROM, requiring you to have little to no prior knowledge to take advantage of all of the tool's capabilities.
It bundles two tools together to provide a complete and advanced experience.
Perform Complex Tasks Easily
To start with, ImDisk ToolKit requires you to have no prior skills or knowledge about this tool or other similar tools that do the same things.
It stores two tools in one application: ImDisk Virtual Disk Driver, with DiscUtils library. It means that you'll have plenty of tools at your disposal to get stuff done.
You also get Mount Image File and RamDisk Configuration at your disposal. So, once you start the application, you can use either of the three or all of them simultaneously.
It enables you to accomplish tasks easily and quickly without too much knowledge or skill.
Works With Different Formats
Another great and important thing about this app is that it works with different formats. Of course, you'll be able to work with NTFS and FAT disks and hardware as long as you have the right drivers installed.
Moreover, you can work with various file types, including VHD, VDI, VMDK, ISO, NRG, BIN, or other raw formats.
To top it all off, you'll have to be able to use the very intuitive interface that comes inside this tool. It's useful for both beginners and advanced users, and the great thing about it is that you don't need prior knowledge to use it.
Conclusion
ImDisk ToolKit is a useful application that will enable you to mount or create image files that you can use for different means.