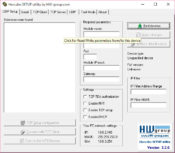 Hercules SETUP allows users to set up the UDP and TCP serial terminal ports. You don't have to install this software on your computer to start the operations. Instead, it comes with an execution-able file that can allow you to begin working as soon as you get it.
You can also view file formats, enable macros, transfer files, and use the debugging features of the serial port terminals through this application. Furthermore, it is easy to use and has simple buttons for implementing the changes.
One of the drawbacks of this application is that it is not supported by many devices, which can be problematic if you expect to use this application with many devices.
You can set up UDP and TCP serial terminal ports with Hercules SETUP. However, its restrictions include limited device support.