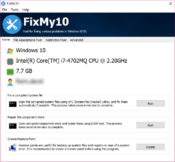 Are you a Windows 10 user? If you experience common problems with your operating system's performance, you can use FixMy10, a lightweight application that will help you fix some of the most common issues in Windows 10.
Windows 10 is one of the most popular operating systems at the moment. It's also the latest OS that Windows has produced, so it has quite a large customer base.
But constantly installing programs and working with Windows 10 is not always plain sailing. Some users regularly undergo various problems and struggle to find fixes online.
That's why you should take a look at an app like FixMy10. It's a relatively simple and lightweight tool that will help you fix some of the most common problems with Windows 10.
It's a highly portable tool that you can use on any computer with Windows 10, and it will help you troubleshoot problems so that you don't have to spend hours crawling the web to find the solution.
Simple and Fast
The tool is incredibly simple to use. Nothing is impressive or extraordinary in the way it looks and feels. It's a tool designed with beginners in mind, so if you're a beginner and experience some problems with Windows 10, this program might have quick solutions for you.
With the simple UI, it's easy to use. It has three main tabs that allow you to fix various files on your PC, including EXE, BAT, or CMD files. The other tab will enable you to fix restricted files and folders, while the last tab helps you fix the most common issues with Windows 10.
It also works quickly and saves you time browsing the internet for solutions. However, some fixes might not be applicable forever because Windows 10 gets updates constantly, which results in some fixes becoming obsolete.
Conclusion
FixMy10 is a simple, lightweight tool for fixing the most common Windows 10 problems. It's a simple tool with a lightweight design that's great for beginners.