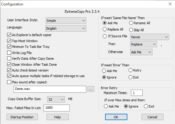 Are you bored waiting a lot of time to copy and move your files from your computer to an external USB flash drive or directly from a local disk to another? The solution is ExtremeCopy, a handy tool that permits you to speed up file copying within Windows.
When you have a file over 7-8GB to copy, and your computer isn't working so fast, you are probably so upset, but the solution is ExtremCopy. This software will increase the copying speed from 20% to 120%, depending on your performance, but it's ideal.
Stop wasting time trying to move huge files in hours. Use this fantastic tool; all will be done in seconds.
We can't talk about many things about the interface and setting up the software. Installing only an executable file with step-by-step instructions is effortless; you can use it after that.
The configuration is pretty simple. You have to choose your favorite options like Interface, Language, and how the program will work. If you want to copy a file with the same name, the software can ask you, or if you set it up to do an automatic action, it will do.
When errors appear in the copying process, the program will ask you to retry, ignore, or abandon the process.
If the maximum time limit is exceeded, ExtremeCopy has three options: Ask Me, Ignore, or Exit. You will configure these options from the interface in a few seconds.
You can also choose to have a custom sound after the copying process is done. Just one the configuration interface, and select your settings as you like.