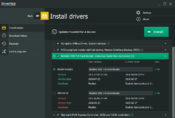 DriverHub is an effective solution if you want a single application that will check for outdated drivers and provide an easy way to update them in one place. If the drivers are up to date, your PC will improve its performance over time, and you can fix your problems.
Installing drivers is one of the more important things about your computer's maintenance. You'll want to make sure that your computer uses the latest drivers, or else you're risking the quality of the performance of your computer, but also many errors that might cause your computer to break down.
To get your drivers sorted in one place, you can use DriverHub. As the name says, this will become your hub for downloading drivers and detecting outdated ones that you'll want to update as quickly as possible.
It will scan your drivers and enable you to update them when they are out of date.
Scan for Outdated Drivers
This application will primarily help you scan your computer for any drivers that are not up to date.
To do that, it will search your computer automatically to see if any drivers are not up to date. It will compare your installed versions with the official versions that software manufacturers provide.
After the scan, it will show you which drivers are not up to date and provide you with an easy way to download and install them.
To do that, you will have the option to easily install drivers in just a couple of clicks, as you can check the boxes for the drivers you want to install and then allow the app to install them quickly.
One-Click Access to Tools
Moreover, this application will provide quick access to the tools you commonly use in your Windows system.
These might be the tools that you need daily, and you need to access them quickly.
Conclusion
DriverHub is a great solution if you want to update your drivers in one place without opening several applications.