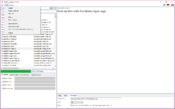 To manage your TTF fonts and get them easily when required, you can use dp4 Font Viewer. You can have various other benefits and feature options when using this application.
It is a portable application that allows you to run it anywhere without any particular need to install the application onto the device.
Even the Windows registry files are not manipulated in any way by this application, keeping your computer in its original condition.
The dp4 Font Viewer interface is split into multiple windows, providing an intuitive interface for the users to interact with the application to get the most out of it. Scrolling lists are also available through this application to find the font of your choice.
It also can show you the preview of the font you selected, making it easier for you to choose the right font for your specific needs without wasting your time.
It can work with lower computer resource utilization, making this application one of the practical applications for managing font changes and implementing them when needed.
dp4 Font Viewer is an efficient application to help you sort and apply various TTF fonts when needed.