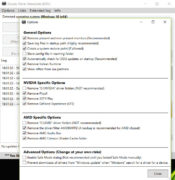 Not happy with one of the drivers of your graphics card? You can then uninstall them in one click with Display Driver Uninstaller (DDU), which will help you get rid of drivers and save program activity to a file.
As the name suggests, this application plays one important role: to help uninstall your display hardware drivers such as your screen, GPU, and other drivers.
It includes NVIDIA, AMD, and Intel drivers. It's a simple and lightweight application that almost anyone can master, and it can be valuable if you want to revert some changes made by drivers.
Portable and Lightweight
One of the best things about DDU is its portability. You can save it on your disk once you download it, and then it can be launched in just a click.
You can also upload it to your USB driver and launch it if you want. You can run the .NET Framework almost anywhere as long as you have the .NET Framework installed.
Modify and Delete Drivers
The application comes with a clean and simple interface. The great thing about this app is that almost anyone can operate it, no matter your previous experience with similar apps. You'll be able to get most of the work done in just a couple of clicks.
But be careful: create a system restore point before using the app, as it might affect your Windows registries.
DDU has just one window dedicated to the main thing this app does, which is deleting drivers on your computer.
First, you'll need to select which graphic driver you want to work with, and then you can delete it in just one click. You can also ask the tool to clean your PC and restart it.
Conclusion
As the app's name suggests, Display Driver Uninstaller mainly acts as a tool to help you remove drivers that you've installed on your computer.