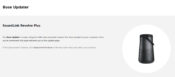 If you're looking for the best software to update your Bose products, Bose Updater will ensure you get all the latest updates you'll need to keep your Bose products running smoothly.
Bose Updater is an application designed by the Bose Corporation, and it's meant as a tool that will help you scan for the latest updates for your Bose products and download them – all in one place. Whether you have a Bose speaker or some other products, you'll often need to update them to make them compatible with the latest software.
It's one of the market's most popular and reliable software updating utility tools. It's a reliable tool that will help you get up to speed with the latest products and updates on Bose products.
User Friendly and Free to Use
It is completely free to use for those who have Bose products. Thanks to the minimal interface that focuses on productivity instead of looks, it's also very user-friendly. It means you'll be able to look and search for updates for Bose products straight from this interface. It's also compatible with the Bose driver utility.
And if there are any updates, you'll be able to find them, download them to your device, and install them.
The whole process can also be automated, which means you'll have to do no work at all to get the latest updates from Bose.
Compatible with Different Windows Versions
This tool is primarily made for Windows computers. It's compatible with almost any Windows OS, dating back to Windows XP. It doesn't use that much space and is very lightweight, so that it won't consume your computer's resources (except for the connection when downloading updates).
This tool has everything you need from an updater – it works quickly and efficiently without consuming your time or resources.
Conclusion
Bose Updater is a utility tool that will help you get the latest updates from Bose for your Bose products.