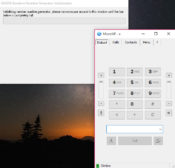 BlackBeltPrivacy is an Internet security tool that will help you keep your privacy when browsing the internet or using VoIP call sessions, allowing you to share files with other users securely.
If security is one of your primary concerns, then using an application like BlackBeltPrivacy might be useful. The application is designed to help its users have more privacy and security as they make VoIP calls or browse the internet through various means.
It will also help you share files securely and safely with other users without exposing your information too much.
Different Means of Operation
It uses various tools to help you stay secure, depending on the type of privacy you want.
For example, if you're going to be private while browsing the internet, then using Tor might be the ticket. It will keep your data and information secure as you browse the web, so you don't have to worry about exposure.
What is more, the other two components are meant to keep you private. When you're making VoIP calls, then you can use MicroSIP.
This utility will enable you to stay private and hidden when making calls, which can be useful when making calls to strangers. The other feature is WASTE, which is meant to help you share files securely and privately.
Protect Yourself
As you may see, this application comes with different modes of use so that you can protect your privacy, and it will largely depend on the type of privacy you need.
It is useful for a wide variety of users and depends on where you intend to use the privacy bundles inside the application.
That said, the app is quite easy to use, even if you're a beginner and don't have much experience with such apps.
Conclusion
BlackBeltPrivacy keeps you safe and secure as you browse the web, make calls, or share files with others.