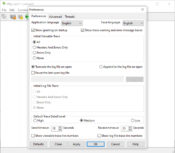 Why Can't I Connect? solves a common problem. Sometimes, you are just browsing along on your computer, and you can't connect to your networks. This can be really frustrating. And it seems to happen on all kinds of networks. This includes wifi, SQL, IMAP, and more. Still, is there anything that can be done about it? Well, it appears that there is. Developers have created an app that solves this problem.
An Important Issue
No matter who you are, you need a way to get the right amount of network connectivity. It also needs to be consistent. This is something that a lot of applications struggle with. Whether you are a professional, parent, or simply browsing social media, you never want your connection to magically disappear. Let's look at some of the features available and how this app solves major problems with the network.
Connectivity
The main feature of this software is that it corrects the connectivity issues you might be having. It will solve issues with the most common platforms. This includes POP3 and SMTP. You will even be able to resolve Usenet servers using your IP address or port number. Once it confirms your information, it will diagnose it. This is much more effective than the stock options that Windows allows. These typically only look at very basic things and waste your time.
Generic Clients
You can test a variety of connections. It doesn't matter if you don't know all the specifics about it. It is designed to be easy to use for this purpose. For instance, say that you want to find out if a client has a local IP address and a port that is active. All you need to do is log into the software and fire it up. It will find the socket, and you will be in business in no time.
Fixes Connection Troubles
If you have issues with communication, even though you think it should be active, then this can help. It will let you place it in between the two. Then, it will look at the data being transferred. If it suspects that something is going on, then it will track that sensitive data. Then, it will provide privacy at the same time. This is so you can send messages without them being intercepted.
Connectivity and Diagnoses
The diagnostic tools are easy to resolve. You can simply fire up the application, and it will go to work for you. It removes a lot of the guesswork out of finding solutions.
To Conclude
After reviewing Why Can't I Connect?, we have determined that it is relatively simple and friendly to get started. There is not a complicated installation or management process. In fact, it seems pretty easy all the way around. When you combine this with the fact that it corrects an issue facing many PC users frequently, it becomes worth it to download it. For those reasons, we would suggest getting hold of it and experiencing it for yourself.