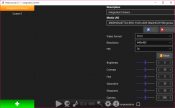 Webcamoid helps you control several webcams simultaneously and take pictures, record videos, apply visual effects, and capture desktop content, making it the ultimate versatile webcam utility app.
If you're looking for a good mixture of complexity and ease of use, you might do well trying out this utility.
The problem with most webcam apps is that they are straightforward or overly complicated and designed only for people who already have a fair amount of knowledge about such applications.
Webcamoid strikes the perfect balance between the two. It's a great application with an impressive array of professional features, although there is still room for improvement in the user interface department.
Impressive and powerful features
The application is an awe-inspiring one in terms of the features it has. It has some compelling features that will let you control various webcams at the same time.
You can also alter the encoding and visual parameters, including resolution, brightness, frame rate, contrast, and other more complex parameters.
Once you're done with the footage, you can easily extract and transform it into various video formats. That is done with the help of complex codec settings, but this process is slightly complicated, especially for beginners with little to no experience in this field.
Recording Made Easy
It allows you to record your desktop even if no capture device is connected. You must note that the recording parameters cannot be customized in this case, and you must also note that the app will not be minimized when you use this feature.
You can also send the captured content to other programs, including programs like VLC media player. Other similar applications are also supported for this feature.
Conclusion
To conclude, Webcamoid is a powerful webcam management tool that lets you capture footage, record, take images, and customize the footage once you're done recording.
It does take some learning, but once you're done with that, the application can become a powerful part of your daily routine if you constantly use webcams.