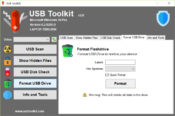 Suppose you are looking for software that can help keep your computer safe from USB-induced viruses. In that case, this application is among the most prominent applications available.
USB Toolkit can quickly check the connected USBs for any malicious content. You even do not have to worry about the hidden files. This application can monitor your USB without discriminating between the hidden and available files.
The deletion of these files is also not difficult at all. You can select the files and delete them with a mouse click.
Apart from checking your USB drive for malicious content, you can also ensure the proper working of your USB through this application. Any problems in connectivity or adequate functioning of the USB files can manage through it.
The file errors created by the USB can be repaired, and you can easily access your desired data.
Additionally, the formatting of the device can easily be managed with this application. One of the other plus points of this application is that it does not need to be installed, so it can work ready when you need it without wasting any of your time on installation and downloading.
USB Toolkit is a dual-purpose application that can save you from viruses and other malicious content, along with helping you in repairing your files.