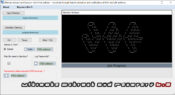 Ultimate Extract and Recover allows you to extract all the files you have in a RAR archive, and after the extraction, the archives can be automatically deleted.
If you often use RAR files and extract them, you need a good tool to help you. You have many options, and Ultimate Extract and Recover is a good option here. It allows you to extract files faster, and you'll also be able to manipulate and recover password-protected files.
Simple and Easy to Use
To start with, we must take a look at the design and the interface of the app. We must say that it doesn't look anything special; to some, it might look dated, but once you start using the app, you'll see that everything is where it needs to be. It does its job expertly, as you'll be able to decompress user-defined archives and recover files, which is the essential role of the app, after all.
But perhaps more importantly, the tool is incredibly easy to use, which is good for beginners who want to get into the app quickly. At first, it might look a bit daunting, but after a few tries, everyone will be able to get along with the app just fine.
To start using the files and extracting them, you must pick the input, output options, and directories. At the same time, you have to configure the settings and the configurations of your input and output files.
We must tell you that you can instruct the app to delete the extracted RAR files, and you can also enable the test mode and set a password.
Gather Reports of Extracted Files
You'll have a good overlook of everything the app tries to achieve when it's fully working. In the Command Prompt window, you'll see many numbers and statistics.
But it's great to see the statistics of processed and unprocessed files, which gives you a good idea of your computer's performance.
One of the tool's most amazing features is the ability to recover password-protected files. It can automatically recover the file by trying out different passwords if you provide some information about the passwords and the protected files.
Of course, this can be a lengthy process because there are so many options here, but in the end, it will inevitably succeed.
Conclusion
Overall, we recommend this tool for everyone who constantly deals with RAR files and needs to download, extract, and recover RAR files. It also works great with password-protected files, as it can help you recover them, even if you don't know the password.
Even though the interface might look a bit dated, the app's performance doesn't suffer. It doesn't waste many resources, and it works pretty fast. It's safe and reliable, which is important for a tool like this.