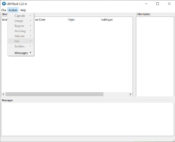 To update OROM/ UEFI models without any specific modding knowledge, you'll need UEFI BIOS Updater. It is one of the best tools available for BIOS modding. There are no other sophisticated tools that can be a competition for this application. So if you are considering the alternatives as an alternative to this one, you might not be very pleased with the outcome.
You don't need immense knowledge about the BIOS modding technique. You need to run UEFI BIOS Updater with administrative rights, identify the BIOS file that needs to be modified, select the right update and the procedure from here on will be managed by the application itself.
Its working is not complex either. It relies on AMI UEFI BIOS file and it can automatically detect the OROM /EFI module that has to be updated. You can even manage to update CPU microcode with this application.
There is no risk of BIOS failures in normal usage. You can even modify more than one module in a single session. However, one of the things that must be considered here is that AMI UEFI BIOS file needs supported motherboard to work properly, so it cannot work correctly on notebooks.
UEFI BIOS Updater can help you in modding your BIOS without any risk of potential failures. The ease associated with this application makes it one of the best apps for this purpose.