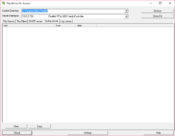 Tftpd32 is a lightweight application with all major server modes bundled inside it, such as DHCP, TFTP, SNTP, and Syslog. It also comes with advanced configuration options as well as several security settings.
Tftpd32 makes it easy to use several server services, as it comes bundled with all the major server options you can use today.
It easily transfers files between networks and servers and comes with a server-client, enabling you to manage DHCP, SNTP, SYSLOG, and DNS servers.
Transfer Files via the Most Popular Server Types
This application comes with a simple user interface that allows you to configure the files and the servers you want to use in one place.
Whether you already have the servers running, you can also make changes to the servers and transfer files from one server to the other. You can easily choose the current directory with the user interface and change the server address.
All of the settings for the servers are located in tabs. Each tab comes with different settings for your servers, so you can input the host, change the settings about ports, and browse for the files you want to transfer to other servers with ease.
You can send or receive files, depending on the connection you establish.
Advanced Configurations
In addition to all of those basic configurations, this app also comes with various advanced configurations. With it, you'll be able to make changes to the security levels, activate the negotiation mode, and manage the IP pool.
You can also set the PXE compatibility and boost speed when transferring files.
You're also able to configure other services and settings. You can set the starting IP when transferring files, enter the default router, and change the DHCP server's pool size.
Conclusion
Tftpd32 is an application that allows you to manage various server types, including DHCP, TFTP, SNTP, and Syslog.