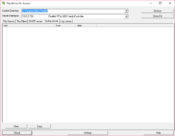 A webmaster or an administrator needs some tools which he can rely on when it comes to different tasks he has to do. These applications should help him, for example, in making better decisions regarding network performance.
This is the case of Tftpd32, a small utility tool which comes in handy when it comes to socket related things. It contains a variety of different features for socket services. Any person can use this tool, but if you are an expert, you may find it useful especially when you have to deal with some socket related issues.
Tftpd32 is an open source tool, and every user can make use of it. If you want some alert or filtering options, then you have to know that this tool doesn`t feature these options or if you want, they can be applied later, after you finished exporting the log.
If you are an advanced user, you can use the code and even compile it yourself, but this feature is recommended only for users who know what they are doing.