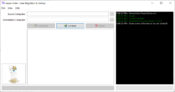 Super Grate is an open-source Windows User Profile backup and migration app that helps you transfer your Windows User Profiles the next time you use a new Windows system. It also enables you to export the profiles to your USB and a network share drive.
When you want to keep your data safe when migrating from one Windows version to another, you'll want to create backups.
It will help you ensure you have all the settings you need to start quickly, so you don't have to repeat the profile creation process again and again. But for that, you'll need software.
It is exactly the type of app you'll need if you want to make sure you don't spend too much time creating new Windows User Profiles.
With it, you'll be able to back your profiles up, export them to a USB drive or a network share drive, and use them and restore them once you're creating a new Windows installation.
Backup and Restore User Profiles Easily
First, let's look at this app's main window and UI. You'll have all the information you need to do your work in the main window. One of the first tasks will be entering the name of your source computer.
And once you do that, Super Grate will list all the users connected to this computer so you can choose the one you want to back up.
You'll then need to select the profile you want to work with and select Start. It's as simple as that. However, if you migrate the data to another computer, you'll want to enter the target computer's name into the box.
When you need to deploy a profile, load the data from the drive you've exported the profile to. You can also migrate data directly to another computer, which helps you get to work almost instantly.
Conclusion
Super Grate is an application that will help you back up, migrate, and restore Windows User Profiles.