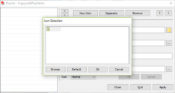 As you know, when it comes to Windows, it can be complicated to do everything you want, and it is essential to have the right tools ready for you. You can try using this PopSel because it is a simple-to-use software that helps you open different programs you want.
When it comes to speed, this tool loads fast, and you won`t have trouble using it. It has a lot of useful functions which you can try out. PopSel can also be integrated with other programs and used as you will.
You can make shortcuts in this tool if you want, and even submenus are supported. There are also additional features that can be discovered by using this tool.
It has a simple-to-understand user interface, and the configuration won`t take long. It is possible to configure everything as you want, and this tool can help you with the pop-up menus that will appear if you start using it.
PopSel has a wide array of functions you can choose from, and every function can be assigned how you want. Any user can even use this tool, whether experienced or not.