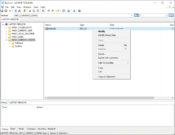 RegCool is a tool for more advanced registry users that allows them to view and edit registry entries and make changes to them to export them and back up the information inside the registries.
If you're looking for a powerful tool to view and edit registries of your Windows system, then you need to know about RegCool.
While this is quite a complex tool geared towards more advanced users, you'll be able to get quite a lot done with it, especially if you're someone who knows quite a lot about registries and if you work with them daily.
Organized UI Makes It Easy
When you first start using this tool, you'll have to install the application to get started. You'll see that the user interface is pretty standard for registry editing tools, which means that everything is organized nicely, making it easy for you to keep yourself organized.
You can browse folders for registry entries and start editing them easily.
Registry Editing Tools
Of course, the main purpose of this tool is to help you view and edit registry entries. Because it's well organized, the tool will work well even if you're a complete beginner, so you won't have to waste too much time learning about how things work with this app.
In the entry list, you'll be able to view and edit the registry entries. You can also sort the entries via a few parameters, such as name, size, and time. Once you've selected the entry you want to edit, double-click on it and start making changes.
You can also open a new registry window, enable a network registry connection, and import or export entries. Again, you can load and unload hives, making this tool one of the most comprehensive tools of its kind.
Conclusion
RegCool is a comprehensive tool for working with registry entries as it lets you edit and view registry entries and perform a bunch of other tasks when it comes to registries.