Panda Free Antivirus 18.06.01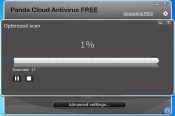 Panda Free Antivirus works on an engine analyzing the behavior of endangering files online and offline, having significantly improved the disinfection procedure and the detection rates. With real time antivirus and antimalware features, the process monitor is low on system resources, while full protection is always on thanks to automatic and transparent upgrades. Furthermore, optimized scans, full scans, and custom scans can be customized to detect undesired programs, scan archives, automatically detect and remove viruses from USB devices.
URL and web filtering are the latest free improvements aimed at detecting malicious files online that hide behind friendly URLs, and warning the user about the threats it poses to the computer.
Panda Free Antivirus features and benefits:
Real-time Antivirus and Antispyware
Automatic and transparent upgrades
URL and web filtering
Translated into 20 languages
Behavioral analysis protection

Process Monitor