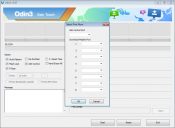 Odin3 is the tool you need to flash your Samsung smartphone. It gives you more control over your phone. If you root your phone, you can use some settings that are not available to unrooted Samsung devices.
You can install custom firmware as well as stock firmware, bootloaders, and kernel modems. Here's how.
Supports All the Samsung Models
The great thing we need to mention about this app is that it supports almost all of the smartphones that Samsung releases. With that, you'll be able to flash your Samsung device, even if it's completely new or if you have the latest model.
The team constantly makes sure that all of the latest models are included.
You'll need a USB driver to connect to your smartphone for this tool to work, though. Compared to some other flashing tools, Odin3 features better flashing speeds and a simpler interface, and no bugs that come with the interface.
You may want to keep the program updated because new updates keep coming for the latest Samsung models.
Safe Flashing Experience
There are some concerns about similar tools that might cause damage to your phone. We can confirm that Odin3 is completely safe to use. It's known to be one of the safest, if not the safest flashing tools for Samsung devices. We have seen that it has some great features from testing it, and it's simple to use, too.
You must know that the tool requires some additional technical knowledge. So you will need to be decently versed with flashing software if you'll want to get the most out of it.
Conclusion
Odin3 allows you to easily flash your Samsung phone and use the newest updates to get all the customizations you want that are unavailable.