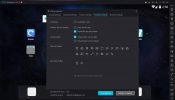 NoxPlayer is an Android emulator that will try to bring you the full Android experience on your computer. It comes with some powerful features to provide you with a great experience.
Today, many people want to use the Android interface on their computers. It is understandable since Android is great for developers, so they like to test their apps. People are also increasingly fond of Android games, so they want to play them with the mouse and keyboard. But to do that, you will need a good emulator for your PC.
One of the better ones is certainly NoxPlayer. This Android emulator will bring you the complete Android experience to your computer simply and quickly.
If you want, you can also mimic the touch method, allowing you to have a full Android experience.
Get the Full Android Experience
It is known to be very thorough in providing you with a full Android experience. When you start the emulator, you'll see that the entire interface will look very like the Android interface, with only a few minor details that will be different. But these are almost not distinguishable.
More importantly, you'll be able to install all Android store apps and games available there.
This application is based on the 4.4.2 platform release of Android, so you'll see the typical look that comes with that release.
Get Apps and Play Games
The most popular use of emulators like this is playing games and testing apps on your computer. It allows you to play games available on Android on your computer without owning an Android device.
Also, you can test Android apps if you want, which may be useful for developers. All in all, you'll get a full Android experience here.
Conclusion
NoxPlayer is a complete Android emulator that will bring you a full Android experience and allow you to play games and test apps from the platform.