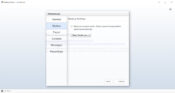 Do you have an iPhone, and you do regular backups? Then you can use iBackup Viewer, an application that will help you view and extract your files from iPhone backups easily and find information about apps and devices.
Whether you want to keep your items safe or you're changing your phone, using the iPhone backup option is handy when you want to make sure you don't lose anything as you do your thing. But the problem comes when you have to view these items that you've just backed up – you can't add them to your local drive.
With iBackup Viewer, you can see specific items you've backed up, so you can easily store them on your computer, manage them easily, and extract them to your local disk to save them for when you need them.
The app is simple and easy to use, and it's appropriate even for complete beginners. Read on to learn more.
User-Friendly Application
iBackup Viewer is made with simplicity in mind. The entire interface is wrapped up in an elegant window where there are three main sub-windows. To get started, you need to select the iPhone backup file you want to work with.
The great thing is that the app will automatically do most of its work, as it will scan all of the items it finds to provide you with the options.
Extract Files and View Information
Once you're able to find all of the backup files, you can start extracting them. These items are organized in contacts, call history, messages, notes, voice memos, Internet, photos, apps, and raw data.
You can also perform some tasks such as save messages and call logs. You can then decide where you want to extract these files, as you can modify the backup location.
The app is simple to use, even if you're a complete beginner – although it might take you some minutes to get the hang of it.
Conclusion
iBackup Viewer is an application that helps users manage and extract backups from iPhone devices.