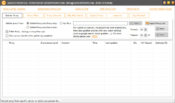 Gather Proxy is a free and easy-to-use application that helps users obtain proxy servers and socks. It provides information about the level, country, time, last update, and other things.
It is a simple to use and portable tool, and an essential thing about this one is that it doesn`t leave any traces in the Windows Registry. It is simple to copy it on any USB flash drive or even other devices and take it everywhere you want. It has a straightforward layout for you to try out, and it is pretty simple to gather proxy related data with this one.
It allows the users to select the type of data they want to grab, and it displays the lists by downloading the information from Gatherproxy.com. It is even possible to specify a custom URL from where the tool catches the info.
This tool allows you to copy data to the clipboard, and it also allows you to view details about a proxy server and anonymity level. You can export data to plain text format and set the selected proxy server for Firefox or Internet Explorer and even Google Chrome.
The smart filtering system is a feature that helps the user to search for user-defined proxy servers. It is a reliable program that bundles a complete suite of tools, and it is more appropriate to be used by experienced users.