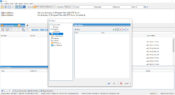 FTP Rush is a fully-featured multi-protocol file transfer client designed to render downloads and uploads fast, reliable, and secure. Intended to optimize speeds according to network characteristics, it also turned to execute plenty of routine processes automatically given the correct code line.
Basic FTP client functionality is assured by keeping it alive, port mapping, HTTP proxy, built-in task manager, and drag-and-drop options. A Script and Command Designer is built-in, and folders synchronization is supported. Another advantage is the possibility to perform site-to-site transfers and on-the-fly compression.
A multiple tab interface and a fast search function translate into a time-saving and ready-to-go FTP client.