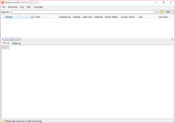 Directory Monitor is an advanced application that will help you monitor local and network folders and files for changes and new additions to them so that you can keep an eye on all of the latest developments.
If you're an advanced user, then you will like the Directory Monitor application. This app is one of the best for monitoring local and network directories.
It is designed to help you manage and get notified about new files added and any other changes that might happen.
Clean and Intuitive to Use
It comes with a clean and easy-to-understand interface that makes it easy for every user to get what they need. It has a split layout where you can separate which folders you monitor.
Each folder or directory you decide to monitor will be shown in a separate entry in the main window.
For each folder you decide to track and monitor, you will determine what aspects of the directory will be monitored and to what extent.
For instance, you can determine if you only want to analyze parts of the directory, such as subdirectories, or complete analysis. If that's the case, you can tick or untick the option for monitoring.
Get Notified
Suppose there is something new happening in your selected directory. In that case, you can get notifications pushed to your computer and desktop so that you can react to them immediately.
At the same time, you can decide to get alerts straight to your email address so that you don't miss a thing, while other users prefer sound notifications.
The application should work without too many problems for most Windows users, and it's also not too complex when it comes to using your resources, as it will not slow your PC down significantly.
Conclusion
Directory Monitor allows you to monitor your directories and ensure you are notified about the latest changes to the selected directory.