ClamWin Free Antivirus 0.99.4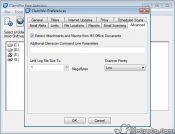 ClamWin Free Antivirus is an open source applications, running on ClamAV engine, and getting improved and updated on a daily basis by a community of remote developers worldwide. It takes pride in the high detection rates of most common viruses and malware and the lightweight interface and functioning of its small number of options, among which the standalone virus scanner and the Windows shell integration are the ones that stand out. Because it lacks a real time scanner, users need to manually scan and remove infected files from the computer.
It is that why, until further development, this solution seems to be good only at the removal of infected mail attachments.
ClamWin Free Antivirus features and benefits:
High detection rates for viruses and spyware

Scanning scheduler
Standalone virus scanner and right-click menu integration to Microsoft Windows Explorer

Addin to Microsoft Outlook to remove virus-infected attachments automatically
Automatic downloads of regularly updated Virus Database