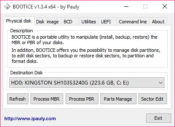 The use of the Bootice software tool comes when the boot sector of drives needs to be managed. It is possible to effect the partitioning and still more advanced management of the boot sector with the application most of the times. But the striking feature of the app is the bare user interface that has in effect dispensed with any garnishes. Thus there is a keen focus on the use of the tool than to make it more presentable of sorts.
It is possible to back up the boot record of a device with the Bootice. Thus it is possible to replicate the functioning of various gadgets but on different platforms. There is the intense use of technology with this software tool for the most parts. On offer is a certain toughness of use that is not seen often in platforms of today.
When partitioning of disk space is done, it is more or less evident that whatever data were on the disk before the partitioning would be lost irrecoverably. The strong point of Bootice is that it is possible to mask out the data or files that need to be retained for further use after the partitioning is complete. Not many programs are considerate enough on this count and thus provide a firm basis to help promote the use of the application.
Presentation wise, there is a functional approach that cuts out the fluff. The use of tabular columns ensures that the customer is presented with the most relevant information but with little fanfare. It could in effect mean a more straightforward application of the device too, something that is bound to be appreciated by the tech community.
The efficiency of the system improves with the better control of the operational parameters. Here Bootice aims at providing power to the user and hence is the most preferred method to partition and manage the issues that crop up with using the boot sector of drives. It does point to better utilization of the disk space than otherwise possible.